Personal Information About Me?!
Well, since you're interested, here is where I hang out a lot in my 'Computer Den'. As you see by the photo's below I have a few PC's setup and a map of the USA with red-dot indicators where I have sold software and also am recording where I have ATS systems sold as well. At one time, I had 7 PC's running on a LANtastic network and six phone lines run to the house with 4 dedicated modem lines.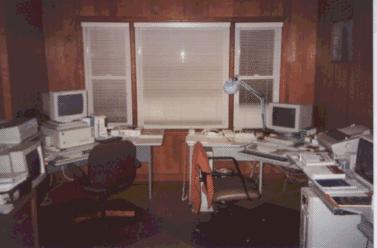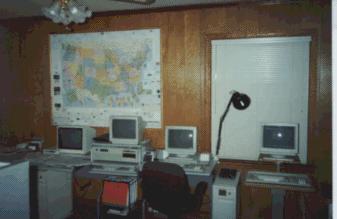 Back in my earlier years after getting out of the Marine Corps in 1973, I got involved in a group of guys who wanted to form a Rock 'n Roll group and we started 'Stonewall". The theme here was that what is a stone wall made from?? Why, Hard Rock of course! Being versed in electronics, I saw we needed a powerful and flexible sound system so I started a project which in a few months turned into a major deal. Below is one of the few pictures I have left of the 1000 watt RMS stereo twin 7' stacks with a hand built audio power rack containing 3 hybrid power amps (bottom unit was 500W tube unit!) that was split via active crossover to feed 8 JBL woofers (4 floor monitors) and reflect bass cabinets with 4 Altec folded horn hi-range speakers. I was an impressive sounding system and rarely did I have to go beyond 60% volume to fill up the big outdoors. Man, those were the good old days....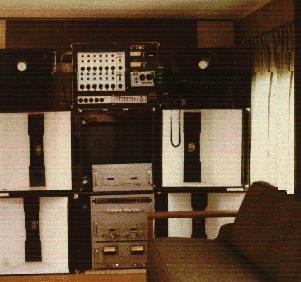 click on picture for a full size viewing
If you're interested in what I might look like in person, here is a recent picture of me while sitting at a friend's house while
he showed me his new video camera and video capture board with impressive software. As I can see, I am fighting the battle of the hairline and am losing. :-)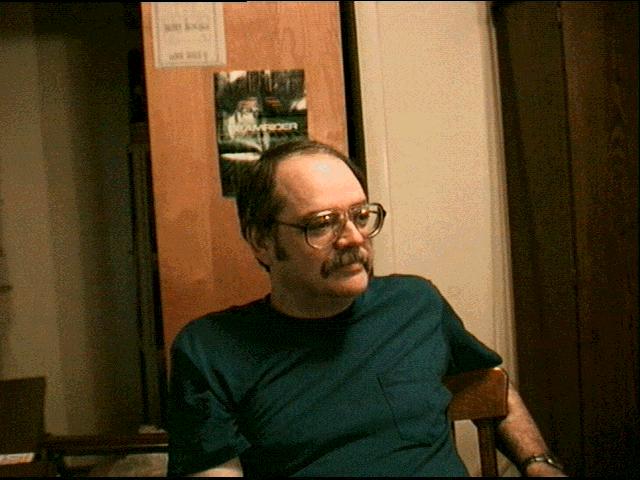 So, what do I do for a living? I'm currently employed by AlliedSignal Corp. in Moncure, NC at a large industrial polyester fibers plant (makes truck/car bias ply and OEM industrial fibers used in seatbelt and automotive applications) New fibers like Spectra(R) is produced as well (used in bulletproof vests and Aerospace applications). I work in the Instrumentation and Controls dept. as a Senior Industrial Instrumentation and Controls Technician. Entry level trainees are required to have two 2-yr degrees (Electronics Technology and Instrumentation Technology) and a minimum of five years experience working in this field. Extensive use of DCS and PLC systems with MMI interface software and high power industrial AC and DC drives are throughout this $500M+ facility with complete waste water treatment facilities on site. As a Sr. Tech at this site, you are responsible for the troubleshooting, maintenance and upkeep of all electrical, electronic, instrument, and related pneumatic instrumentation on the plant site. At this large facility, you are exposed to just about everything currently in industry from the incoming powerplant right down to the desktop PC sitting in front of you. Interesting work, to say the least. So, since 1970 I have been working in my field and have worked on nearly every aspect of electronic controls from (A)ircraft (F4 Phantom & KC130F Hercules) to (Z)IPdrives and most everything in between!
The BeaSSt and the beginning . . . .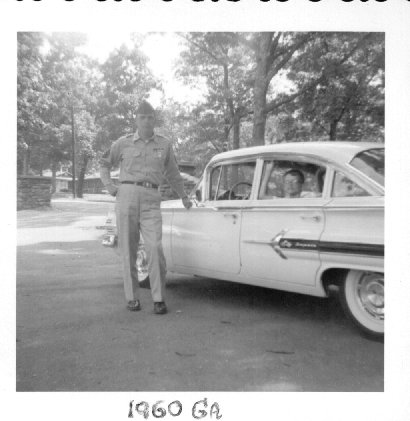 This picture was taken in Augusta, GA. in 1960 a few days after my pop (career army) had purchased a brand new 1960
Chevrolet Impala. Thats me in the backseat looking out. I'm eleven years old at this time. I really like riding in this great big fancy car (348cid with 4bbl carb!). The back seat was even big enough for my other two sisters to ride along.
Then the big day came in the winter of 1994 . . . new from Dealer!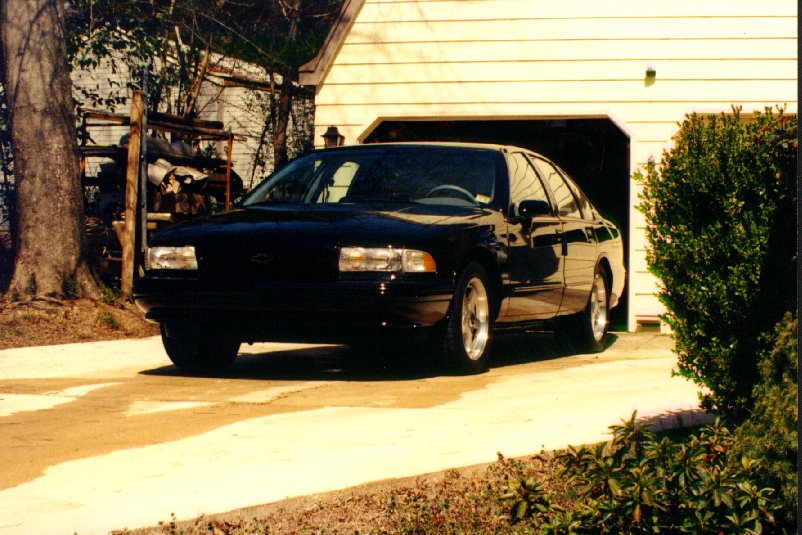 How did I get involved with the Impala SS Chevrolet?? Well, my father purchased one of the very first ones (#244) in 1994, first year and brought it over to the house to show me and I was instantaneously impressed and got the 'fever'. Since I had just purchased a new S-10 Blazer (also nice!) I was unable to run down to my dealer and press for one. However, shortly thereafter, my father decided that it was a little too much car for him, I made him an offer he could not refuse and took possession with only 13k miles on the beaSSt. Being BONE STOCK I really didn't get much of a 'mod fever' -until- I went to the Impalapaloosa held in Bowling Green, KY in June, 1997. At that time I got an eye full (and lots of pictures) of some of the most beautiful cars I had ever seen. Hence the 'bug' had bitten me hard. I also saw some mod clinics going and one was the Blink-Blink system. I was put on their list after waiting a long time and saw they never intended to do my car as they did not bring parts to do all the ones they had taken down to do. But, I was promised a do-it-yourself kit in about three weeks. To make a shorter end to this story, after 4 months of steady email promises to supply this, it never occurred *so* being a person who has designed and built entire control systems for industry, I decided to not wait any longer and build/design one for myself. This was September, 1997. In doing in depth research and investigation on the matter, I found that I did not like the passive controlled switch system adopted by Chris Lewis and decided to invest more time and money in a 'true controller' configuration. Of course this required more parts and design but in the end gave me much more for the money (investment). I wanted a heavy duty and industrial based control system than 3-4 soldered components taped up in my wiring harness. The inexpensive metal socket and overall installation did not appeal to me at all. So, when finalized the ATS design, it looks like a 'factory' installation. So, I began to sell kits at Thanksgiving (Nov.97) and traveled to Philadelphia, PA. in early January 1998 to do a mod clinic at Harri Rieter's place (nice gent) for the POSSI Impala group. I really did not have time to get to know them well as I was very busy for the day and a half I was up there. Now, in March 1998, Scott and Chris decided to put out their light kit and now we are in 'competition'... Funny how life works out isn't it??

Ok, so what else do you do for a hobby? Well, I have an impressive coin collection with some very old and rare coins from early America as well as a genuine silver 'piece of eight' (8 Reale) as seen in authentic western movies. I had a complete set of silver Washington Quarters from 1932-1964 uncirculated (yes, including rare 1932-d, 1932-s) but got a good offer for the complete set and sold them (I could kick myself now). I still have a BU set of Carson City Morgan dollars that a magnificent. Boy, they could mint beautiful coins back then. I started up a new set of new Walking Liberty dollars and they are by far the best looking silver dollar made this century. I'm glad the mint decided to go put this new series out. Anything else?? Well, I owned and rode my 1971 Harley 1000cc sportster for near five years and wish I had another... (sold it impulsively when offered a large amount of cash money on the spot). And I enjoy working with computers and wrote/ran/operated (SysOp) a 1200 user BBS (Bulletin Board System) for 13 years, as you saw the room full at the beginning of this page. Well, thats about it for now but I might get a 'impulse' and write some more later :-)
Here's a few more pics of my BeaSSt during its build up and some recent 1997 Petersburg, VA and Rockingham, NC Super Chevy Show's competition scenes!! Won in both shows 1st Place in my class (Street).
Here's a recent pic from our June Grill-57 club meeting with my wife Ramona, Betty Riggan and Mary Paulsgrove!