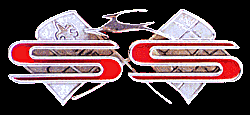 My BeaSSt
This page best viewed in 800x600 resolution!
Click on any of the following thumbnails and get an enlarged picture view...These are various pics of the engine bay from several shows in different lighting and stages of construction!


Here are a few shots recently from the Impalapalooza 'At The Gathering' in Atlanta, GA. courtesy of the SEIL Impala group!
Here are a few profile shots taken recently on an outing and see if you can find all the different items I have added to the chasis!
See if you can see some items I've replaced from plastic to the real stuff!
Jon Moss is signing my trunk lid at Impalapalooza III at Bowling Green, KY.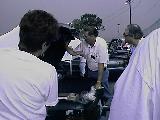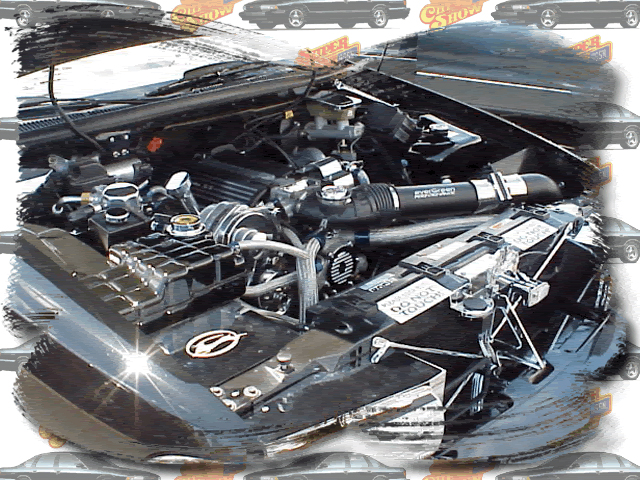 Rockingham, NC. SuperChevy Show April, 1999
Bristol, Tennessee SuperChevy Show May, 1999

1994 Impala Mod's and Enhancements



Here are some items that I've added to my BeaSSt!
VIN # 244
Modifications from Stock

Interior
1. Embroidered 'deer' interior custom floor mats.
2. Walnut woodgrain dash and door accent kit.
3. Rear and side smoke window tint.
4. Built-in Celular phone with hands off microphone.
5. Chrome engraved front and rear door sill plates.
6. Custom embroidered 'crossed-flags' console cover.
7. Caprice 9C1 heavy-duty rubber trunk mat.
8. Custom Air-Brushed Impala Logo Tire Cover.

Exterior Body/Frame/Lights

1. 1961 Impala crossed-flags fender emblems.
2. Front air dam reflective "Impala_SS" logo script.
3. 1962 Rear trunk Impala-SS chrome emblem.
4. Disc brake caliper assembly detail (hi-temp silver paint).
5. GTS Carbon Fiber smoke headlamp covers.
6. GTS smoke front/rear window vent shades.
7. Felpro rear differential gasket replacement.
8. Caprice fuel tank filler bib.
9. Bilstein Heavy Duty Front/Rear Gas Shocks.
10. RBT (Red Front Grill Bowtie Emblem).
11. 9C1 high speed aero wiper assemblies.
12. 3rd. Brake Light 'Impala SS" logo light mod.
13. J&M upper/lower rear 'centering' hi-perf. control arm set.
14. A.T.S.-III Sequential Turn Signals & #3496 bulbs/SuperBrite Lens Bucket Mod-II
15. Triple chrome plated Impala_SS rear quarter panel emblems (see pic's above)
16. 17" Budnik 'Raptor' polished billet aluminium custom wheels.
17. Buick rear frame brace
18. 91-92 Caprice rear lens with painted trim (blacked out chrome)

Engine Bay/Drive Train/Exhaust System
1. Evergreen Hi-Performance Cold Air Kit.
2. Evergreen Hi-Performance throttle body air-foil.
3. NGK-TR55VX high performance platinum spark plugs.
4. Borla Hi-Performance stainless steel dual exhaust system, w/H-pipe.
5. Air conditioner drain tube addition and re-route mod.
6. Chrome radiator overflow tank cap ring.
7. Corvette LT1 injection cover dress mod.
8. MBA anodized fuel rail covers with engraved 'Impala SS' logo script.
9. Chrome Power Steering cap ring.
10. Chrome valve covers with ingraved 'Impala SS' logo.
11. Polished alternator with billet alum. fan, pully and pully cover.
12. Chrome air pump air filter assembly.
13. Chrome throttle body cover plate.
14. Billet alum. throttle spring cover, polished.
15. Brushed alum. intake plug cover with chrome 1963 Impala emblem.
16. Chrome Water Pump Cover and Outlet neck.
17. HyperTech PPP+ (PCM Power Program) w/160 deg. T-Stat.
18. Custom made vented PCM cover plate.
19. Dual Engine Bay lamps with individualized control switches.
20. Chrome plated battery cover with Impala logo.
21. Chrome plated rear fender braces.
22. Chrome plated front radiator cross-braces.
23. Chrome plated engine bay headlamp covers.
24. Chrome plated forward radiator splash guard.
25. Chrome plated brake reservoir cover.
26. Chrome plated power steering pully and pump cover.
27. Chrome plated belt tensioner pully.
28. Polished billet A/C pully.
29. Polished billet harmonic balancer pully cover.
30. Chrome plated AC/Alt/Pwr Steering accessory bracket.
31. SLP Headers with Jet-Hot coating.
32. DYNOTECH high-speed alum. comp. driveshaft (extended).
33. Spectre polished stainless steel hose dress kit.
34. MSD 8.5MM Super Conductor Ignition wire set.
35. Polished billet M.A.F. (bored out)
36. Painted (gloss black) radiator overflow tank
37. Painted (gloss black) wiper fluid tank
38. Polished billet fuse box cover.
39. Chrome plated A/C expansion tank bracket.
40. Chrome plated windshield wiper motor cover.
41. Polished stainless steel steering kuckle cover.
42. Chrome plated AIR check valves.





All photographs above Copyright (c) 1998, 1999, 2000 reproduction prohibited without expressed permission.